In the 1930's George Riley, the famous race engine designer, discovered that stock Model "A" water pumps would spin too fast for the best rate of cooling at higher engine RPMs, like we experience in today's normal traffic. He drew up plans for this 3.56" pulley and we are pleased to offer this precision speed part to the community.

If you drive at modern highway speeds you'll need this important part. . . . If you race this is the one that won't explode from centrifugal force and tired castiron.

Our newest pulley is 5.50 inches in diameter and matches the stock pulley's mechanical specs,
WITH MAXIMUM SAFETY AND PERFORMANCE IN MIND.
FIT FORD MODEL "A" & "B" (1928-1934) ENGINES
Steel, one piece, machined from billet. "An exceptionally fine piece of equipment!"

Finest quality, precision, fully CNC machined and balanced.

High speed design has reduced the diameter to 2-3/4" at the belt groove (3.56" OD).

Reduces water pump RPM approximately 28% for today's higher road speeds.

10/20 degree timing marks.

Use normal length Vee belt OR our specially sized slightly shorter belt is available.

When used with an alternator normal charging occurs

after a quick rev-up to 1500 rpm.

When used with a generator the 3rd brush can be moved to increase charge.

Additionally, our steel Riley pulleys will not explode or crack like cast iron pulleys can in high speed environments.

Be safe, it's required for hill climbs, racing and over

revving situations by serious professionals.

The front oil seal will last much longer with a steel pulley.

These are NOT cheap soft aluminum pulleys that allow the front crank oil seal to seriously cut into the pulley shank.

NOR DO THEY WEAR OUT AROUND THE BOLT - NO WOBBLE.
Crankshaft Pulley - STEEL Single$110.00IN STOCK . . . . (our best seller)
Comes with grade 8 bolt and washer.

Black Oxide coating.

3.5" diameter.

Uses 5/8" Belt NOT included.

Optional belt listed below.
Crankshaft Pulley - STEEL Dual
$135.00IN STOCK
Commonly used with air-conditioning.
Comes with grade 8 bolt and washer.
Black oxide coating.

5/8" & 3/8" belts

3.5" diameter (stock size)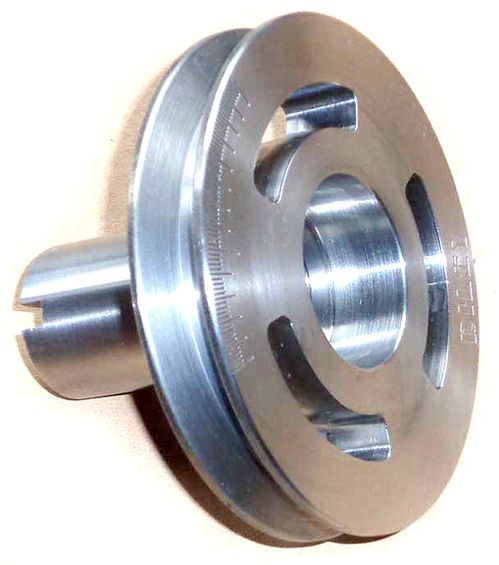 Crankshaft PulleySTEEL Single 5/8 BELTLARGE 5.5" Dia. Stock Size

$158.00
IN STOCK
Comes with grade 8 bolt and washer
Black Oxide Coating.

5/8" belt - 5.50" diameter (stock size)

Also, we have this pulley in DUAL 5/8" belt
Dual $ 310.00 (CUSTOM MADE)
IN STOCK
Crankshaft Pulley
$150.00
STEEL Dual 5/8"
5/8" belts - 3.5" Diameter
IN STOCK

COMES WITH GRADE 8 BOLT AND WASHER
BLACK OXIDE COATING
TIMING MARKS
DUAL 5/8" BELTS

USE WITH BLOWER AND AC AND MORE
Mounting Bolt Washer Set
Replacement Part

$5.00 IN STOCK
Grade 8 Bolt is to be torqued to 125 foot pounds of torque.
This set comes with each pulley.
Vee Belt
$12.95
IN STOCK
Our OPTIONAL smaller Vee belt (42")
will take up the combined slack of an alternator's small pulley
and our 3.50" crank pulley.
Scalded Dog Speed Parts, 3860 Cain Run Rd, Batavia OH 45103.
Phone 513-724-0700, email
[email protected]