SCALDED DOG
Single Down Draft Intake Manifold
In stock $350.00

Fits Model A and B Fords.
Adds 10 HP to most applications
356-T aluminum casting.
Designed to bolt to the stock exhaust manifold.
Use any Ford V-8 three bolt carburetor.
Fuel pump is not required but better
performance can be had with one.
This manifold is best used with
a phenolic spacer (available in "gaskets") to
keep the carburetor cool.
INCLUDES: 2 pivot/slide/lock links; 2 bolts to mount to exhaust manifold; 1 vacuum port plug and instructions to make link bar.
Model A's like hot VAPORIZED fuel . . . a heated intake manifold is PERFECT to vaporize the fuel . . . This is the manifold that works!

down load INSTRUCTION SHEET PDF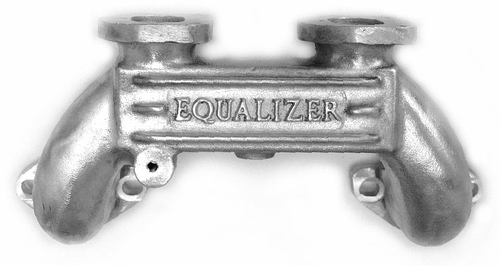 $350.00 OUT OF STOCK
BEING CAST AT THIS TIME

After testing, the volumetric efficiency and over all performance of the Equalizer (Designed and Produced by Charlie Yapp)
has been proven to excel (HP and Torque) at
highway speeds for the Model A and B Ford.
And best choice Dual Intake for use with progressive or direct linkage.
That Dyno data by Dennis Pironio is available if need.

When used with headers, large intake valves, 3/4 race camshaft
and a ROCKET428
cylinder head you can expect 100%+ increase in HP.
Fit Model A and B engines
as well as some OHV conversions.
Uses Ford V-8 1932-48 three bolt carburetors.
Two Stromberg-81 carburetor work best.


Our Equalizer manifolds have a centered fuel/air mixing plenum.
This exclusive feature provides a group of possibilities:
Two carbs can be used in tandem;
Two carbs can be used with progressive linkage;
One carb can be used as the only functioning carb and the other is blocked off.
MOUNT FEET ARE MACHINED TO "CROW'S FEET" . . . Not shown in this photo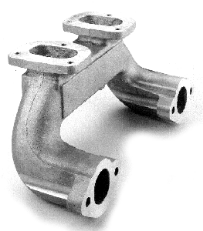 VORTEX DUAL UPDRAFT

VORTEX Dual Up or Down Draft Intake Manifold
$350.00
IN STOCK
Includes linkage, hardware and instruction (no carburetors).
Carburetors that fit:
Zenith Model A and B (shown), Tillotson and Marvel.

We recommend the Model B Zenith (shown) and the Tillotson carburetors.
They seem to work better in pairs than the Model A Ford Zenith.
Shown here is our same VORTEX intake manifold used as a DOWN-DRAFT manifold.
The carburetors shown are Jeep Carter replacement Solex brand Carbs.
This set is easy and works quite well. Linkage is custom made and not supplied.
Questions?
Please send an email to:
[email protected]
Order:
email with what you want along with your full name and billing/shipping address.
We will send back an invoice to pay from. . .
Or call our office (513) 724-0700 EST, USA